Wine and Moods Pairing
Studies at University of Missouri have proved that music has a strong impact on moods. Listening to sad pieces at times of loss can further deepen your grief; whereas, listening to upbeat music can uplift the mood.
Choosing the right wine can have the similar impact on your brain. When sweating hot, ordering a full bodied Shiraz will intensify the feeling of heat. Order a lighter bodied Pinot Noir could be more enjoyable.
Below is a starter list of wines for different moods and occasions: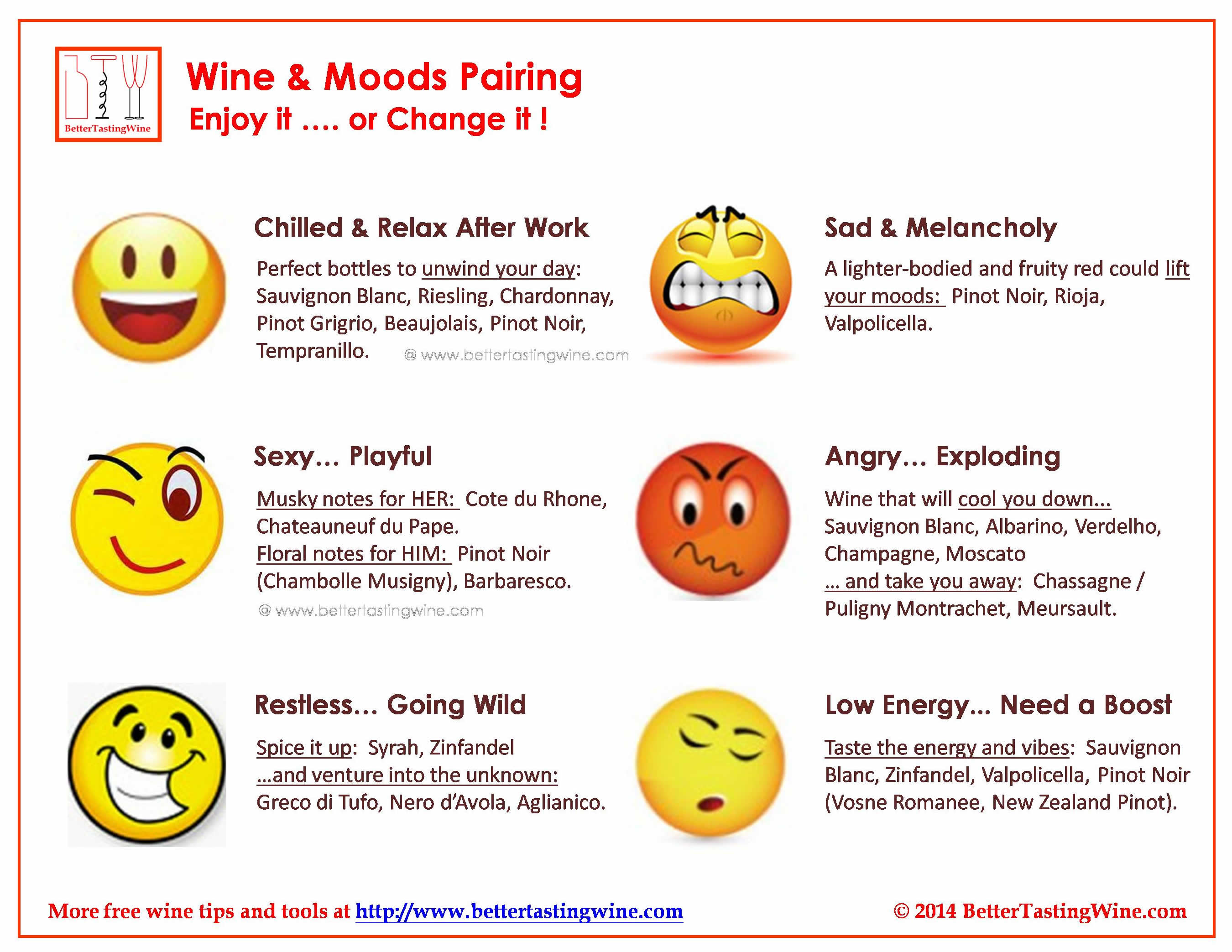 Relaxing Evening / Chilling after Work:
Perfect bottles to unwind your day: Sauvignon Blanc, Riesling, Chardonnay, Pinot Grigrio, Beaujolais, Pinot Noir, Tempranillo.
Sexy and Playful:
Musky notes for HER: Cote du Rhone, Chateauneuf du Pape,
Floral notes for HIM: Pinot Noir (especially Chambolle Musigny), Barbaresco.
Angry.. About to Explode:
Wine that will cool you down... Sauvignon Blanc, Albarino, Verdelho, Champagne, Moscato
… and change your moods: Chassagne Montrachet, Puligny Montrachet, Meursault.
Happy:
While most wines will taste better when you are in a happy mood, nothing beats a bottle of bubbly Champagne or Sparkling (Prosecco, Cava, Moscato, etc).
Depressed:
Go for a lighter-bodied red to lift your moods: Pinot Noir / Burgundy, Rioja, Valpolicella.
Deep in Thoughts:
Wines that can match your layers of thinking: Merlot, Cabernet Sauvignon, Shiraz, Douro, or a white Burgundy.
Energetic.. Feeling Restless:
Wines that are full of energy and vibes: Zinfandel, Valpolicella, Pinot Noir (Vosne Romanee, New Zealand Pinot).
Ventourous.. Wanting to Explore:
Go for a wild Zinfandel or venture with an atypical local grape Greco di Tufo, Nero d'Avola.
Explore and Enjoy !
Stay informed. Follow us and subscribe here to get our latest wine insider news and tips:
Practical Wine Lessons: Wine Tasting Like a Pro | Grapes | Serving Wine | Food Pairing | Preservation | Temperature | Restaurant Ordering | Wine Labels | Wine Regions | Wine Storage | Start a Collection | Common Wine Myths.
Useful Wine Tips: Ten Facts to Become an Instant Wine Pro | Vintage Guide | Removing a Broken Cork | Serving Order of Wines | Fastest Way to Chill a Wine | Host Wine Party | Elements of a Good Wine | Wine Investment "Winning" Guide | Leftover Wine: Recipe for Vino Punch | Freeze Your Leftover Wine | Wine Moods Pairing | Best Way to Preserve Champagne After Open | Ten Must-Have Wine Accessories.
Tasting Tutorial: Cabernet vs. Merlot vs. Pinot Noir | Sauvignon Blanc vs. Chardonnay vs. Riesling | Burgundy vs US vs New Zealand Pinot Noir.
Fun Download: Wine Tasting Scorecard | Wine Serving Temperature Chart | Wine Aroma Table | 3 Must-Know Red Grapes | 3 Must-Know White Grapes | Vintage Chart | Wine Party Themes | Wine Region Maps | Grand Cru Chart | Wine and Moods Pairing Chart | Wine Quotes & Wine Humor.
Travel & Exploration: Champagne 101 | Bandol | Italy | Spain | Sherry.
Jewels & Gems: Grower Champagne Pierre Gimonnet | Gravner Ribolla - An Amber Wine Maturated in Clay | Gaja - King of Barbaresco.