Removing a Broken Cork
An experienced wine lover can remove a broken cork successfully most of the time. You can too. Here is how:
1) If majority of the cork is still in the bottleneck, you can reinsert the corkscrew. Where you insert the corkscrew and which direction you pull determine your success rate!
If the cork remains firm in the center, you can simply reinsert and pull upward. However if the cork is dry and brittle in the center, insert at an angle and work the cork upward pushing against the glass neck.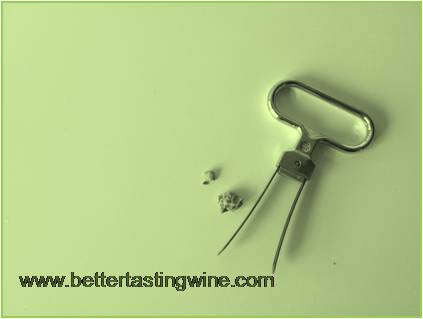 2) Use an Ah-So, a two pronged corkscrew [refer to picture]. Insert the Ah-So into the bottle, one side at a time. When the Ah-So has a good grip on the remaining cork, gently twist and turn the cork upward. An Ah-So is a handy tool when working with mature bottles with delicate corks.
3) If the above fails, then the last resort -- clear all brittle parts of the cork and gently push the remaining portion into the wine.
If a new cheese cloth or fine filter paper is available, wrap it around the bottle neck tightly with a rubber band and pour. Do not place it as a filter on the glass as it won't be as effective. Altneratively use a stainless steel fine filter. Make sure the filter is aroma free to avoid influencing the wine.
Don'ts:
Many suggest inverting bottle down at an angle so the wine will help push the broken cork out. I would not recommend this. We are trying to separate the broken cork from the wine (before our last resort), not integrating it. And if working with a mature bottle, we do not want to disturb its sediments.
Good Luck!
Stay informed. Follow us and subscribe here to get our latest wine insider news and tips:
Practical Wine Lessons: Wine Tasting Like a Pro | Grapes | Serving Wine | Food Pairing | Preservation | Temperature | Restaurant Ordering | Wine Labels | Wine Regions | Wine Storage | Start a Collection | Common Wine Myths.
Useful Wine Tips: Ten Facts to Become an Instant Wine Pro | Vintage Guide | Removing a Broken Cork | Serving Order of Wines | Fastest Way to Chill a Wine | Host Wine Party | Elements of a Good Wine | Wine Investment "Winning" Guide | Leftover Wine: Recipe for Vino Punch | Freeze Your Leftover Wine | Wine Moods Pairing | Best Way to Preserve Champagne After Open | Ten Must-Have Wine Accessories.
Tasting Tutorial: Cabernet vs. Merlot vs. Pinot Noir | Sauvignon Blanc vs. Chardonnay vs. Riesling | Burgundy vs US vs New Zealand Pinot Noir.
Fun Download: Wine Tasting Scorecard | Wine Serving Temperature Chart | Wine Aroma Table | 3 Must-Know Red Grapes | 3 Must-Know White Grapes | Vintage Chart | Wine Party Themes | Wine Region Maps | Grand Cru Chart | Wine and Moods Pairing Chart | Wine Quotes & Wine Humor.
Travel & Exploration: Champagne 101 | Bandol | Italy | Spain | Sherry.
Jewels & Gems: Grower Champagne Pierre Gimonnet | Gravner Ribolla - An Amber Wine Maturated in Clay | Gaja - King of Barbaresco.