A Conversation at Pierre Gimonnet with Didier
Pierre Gimonnet is undisputedly one of the top grower Champagne families in France. Its "Special Club" consistently ranks top three in blind tastings and professionals' ratings.  Demand forever exceeds supply.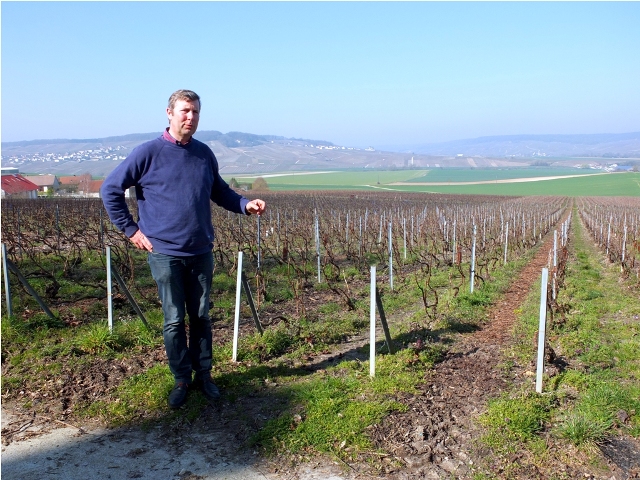 Its unparallel advantage lies in 30 hectares of premier cru and grand cru vineyards with old vines in Côte de Blancs. Yes, every bottle of Gimonnet Champagne is made from grapes grown in premier and or grand cru vineyards!
In addition to superior terroir, Pierre Gimonnet went the extra mile of aging its reserve in bottle – a costlier and labor-intensive process.  Reserve is the reserved wine (from the earlier vintages) which is added to the current vintage to add complexity as well as to ensure the final blend achieves a consistent house style.  Most champagne houses keep their reserve in large oak barrels.  The reserve can stay fresh for 2-3 years.  Aging in bottle, on the other hand, allows the reserve to retain its freshness for a prolonged period, thus allowing the addition of complexity without compromising on freshness!  Gimonnet's current NV (Cuvee 151) is made from 100% Chardonnay grown in the premier cru vineyard of Cuis.  23% of its blend comes from reserve from older vintages (2006, 2007, 2009, and 2010).  Bottling aging makes it possible to add complexity without compromising on freshness and finesse.
In addition to the Non-vintage, 5 grand blanc de blancs Champagnes are produced from 100% Chardonnay.  While these vintages are all labeled premier crus, majority of the blend comes from grand cru plots.  For example, for Gimonnet Special Club 2005 (rated by many critics as one of the best in Champagne), only 13% comes from Cuis Premier Cru, 57% comes from Cramant Grand Cru, and the remaining 30% from Chouilly Grand Cru.  Similarly for Fleuron and Oenophile, only 17% of the blend comes from Cuis premier cru, the rest are all grand cru blends.
Gimonnet's Oenophile is worth a special mention – a wine loved by champagne purists as the most genuine expression of its terroir.  It is a blanc de blancs made with no dosage.  Only crafted in excellent years, Gimonnet would carefully select the barrel that is most balanced and suitable for its extra-brut.  Needless to say, production is very limited [~6,000 bottles for vintage 2006].

In recent year, a Rosé was launched.  Link pink in color with fresh berries aromas, this cuvée rosé is crafted by adding 10% of Bouzy Grand Cru Pinot Noir to a base of Chardonnay (~15% Premier Cru from Cuis, remaining from Grand Cru vineyards of Chouilly, Cramant, and Oger).  Also labeled a premier cru abiding by Champagne's regulation, despite majority of the blend is from grand cru vineyards.  The high percentage of Chardonnay gives it a remarkable vivacity and finesse.

Pierre Gimonnet is under the management of Olivier and Didier (Pierre's grandsons). We spent two hours conversing and tasting with Didier.  The wine flight started with the Cuis Premier Cru and moved onto the Gastronome 2008, Rose Premier Cru, Oger Grand Cru, Special Club 2005, and Oenophile 2006.

Each champagne is a delicious expression of Côte de Blancs.  It is purity, balance and complexity wrapped in a lemon-gold robe of freshness and elegance.  Such quality is not a coincidence, but comes from decades of dedication.
Interview Highlights
[The words "We" and "our" in the below section refer to Gimonnet]
What would you attribute to the high quality of Gimonnet ?
Everything starts with the fruit.  Gimonnet's grapes are grown on the best premier and grand cru sites in Côte de Blancs.  For example, we (Gimonnet) have the best plots in Cuis, the most acidic village in Côte de Blancs.  This is the ingredients to having good acidity, minerality, and finesse in the wine. 
Also, we take great care to ensure freshness in our wines.  Grapes are harvested manually and press less than 6 hours after picking.  The reserve wines are preserved in bottle (more fresh than if kept in big barrel).  
What gives its complexity? 
For the non-vintage, aging the reserve in bottles allow us to include reserve from vintages made many years ago.  For example, addition of 2006, 2007, and 2009 vintages add complexity to the 2011 base non-vintage. 
For the vintage Champagne, we include a high proportion of Grand Cru in the blend. Abiding to Champagne regulation, we have to call it a premier cru even if only ~85% of it comes from grand cru vineyards.
How would you describe the Gimonnet style? 
Wines with freshness, delicacy, elegance, minerality, and structure, but never overpowering.  Harmony over intensity.  It must give pleasure and offer a clean, long finish… like impeccable lace."
What would you say are the best vintages for Champagne?
Didier prefers 1995 over 1996.  1995 is balanced and elegance; 1996 is big and complex, being high on all dimensions.  1990 is a rich vintage.  1982 is a magical year, exceptional quality at high yields. 
How would you describe the recent vintages?
2004 is easy and lacy (elegant). 
2005 is a body builder, big and bold.
2006 is easy and generous. 
2008 is young and expected to be excellent.
What is a common misperception on Vintage Champagne?
There is a misperception on vintage champagne.  Many consumers believe that vintage champagne must be complex with intense aroma of biscuits and yeasts.  To Didier and to the Champagne purists, a vintage is an expression of the harvest year. While it must be balanced, it can be enjoyed young.  It does not have to be overly complex to express the vintage personality.
What is the most important role of a Champagne producer?
Didier believes in upholding the tradition.  A good Champagne grower knows the character of each parcel and how they blend with each other.  There is a lot of history testing and learning the chemistry when blending different parcels.  Champagne, afterall, is about terroir and blending. 
 
Didier showed me a picture with his grandfather, his father, and him in it.  Pierre Gimonnet, Didier's grandfather was man of vision having built the champagne house from scratch and never compromising his quality standard in tough economic times. He bought only the best plots of vineyards, kept a journal on years of blending experiences, and aged all his reserve in bottles.  To this date, Didier and his cousin Olivier upheld the same philosophy, tradition, and quality standard.
Stay informed. Follow us and subscribe here to get our latest wine insider news and tips:
Practical Wine Lessons: Wine Tasting Like a Pro | Grapes | Serving Wine | Food Pairing | Preservation | Temperature | Restaurant Ordering | Wine Labels | Wine Regions | Wine Storage | Start a Collection | Common Wine Myths.
Useful Wine Tips: Ten Facts to Become an Instant Wine Pro | Vintage Guide | Removing a Broken Cork | Serving Order of Wines | Fastest Way to Chill a Wine | Host Wine Party | Elements of a Good Wine | Wine Investment "Winning" Guide | Leftover Wine: Recipe for Vino Punch | Freeze Your Leftover Wine | Wine Moods Pairing | Best Way to Preserve Champagne After Open | Ten Must-Have Wine Accessories.
Tasting Tutorial: Cabernet vs. Merlot vs. Pinot Noir | Sauvignon Blanc vs. Chardonnay vs. Riesling | Burgundy vs US vs New Zealand Pinot Noir.
Fun Download: Wine Tasting Scorecard | Wine Serving Temperature Chart | Wine Aroma Table | 3 Must-Know Red Grapes | 3 Must-Know White Grapes | Vintage Chart | Wine Party Themes | Wine Region Maps | Grand Cru Chart | Wine and Moods Pairing Chart | Wine Quotes & Wine Humor.
Travel & Exploration: Champagne 101 | Bandol | Italy | Spain | Sherry.
Jewels & Gems: Grower Champagne Pierre Gimonnet | Gravner Ribolla - An Amber Wine Maturated in Clay | Gaja - King of Barbaresco.