Gravner Ribolla: A Natural "Orange" Wine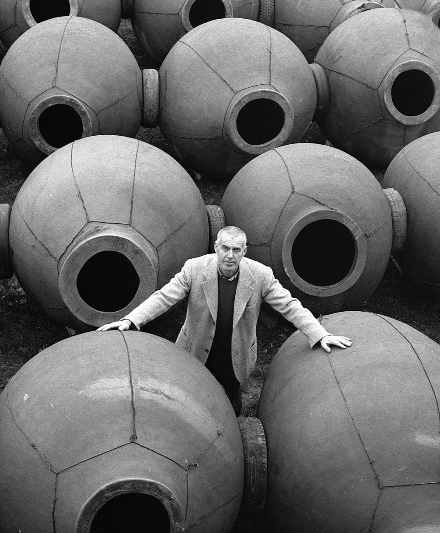 Josko Gravner supports natural winemaking. Unlike what today's biodynamic or organic wine producers would do, Gravner travels back thousands of years and follows a practice used then. To make his famed Ribolla white wine, he would macerated the grapes in large amphorae -- terracotta clay pots, each large enough to fit two people (see picture on the right) -- and sealed them with beeswax.
For those who have tasted Ribolla, they will not only remember its complexity, durability, but also its highly unusual color.
"Orange Wine" is what it is often referred to; though Gravner would correct that it is amber, not orange, in color.
The difference between an orange vs. an amber wine? Amber captures life (in form of organic matters) and desirability in a natural wine; Orange is a sign of excessive oxidation and the delicate fruit expression from the terroir would be lost. Ribolla is an amber, not an orange wine!
The color is the result of the wine's six to seven months contact in the amphorae with grapes on skins. After maceration and fermentation in amphorae, the Ribolla is then aged in large oak vats. Gravner does not interfere with the process. Once the wine is in the amphorae buried underground with only the neck exposed, nature takes over. Gravner's perspectives: It is similar to giving birth, you should not interfere the baby in a mother's womb. To ensure the wine is a true voice of nature, Gravner bottles it without fining and filtration. Because of this, Ribolla is cloudy.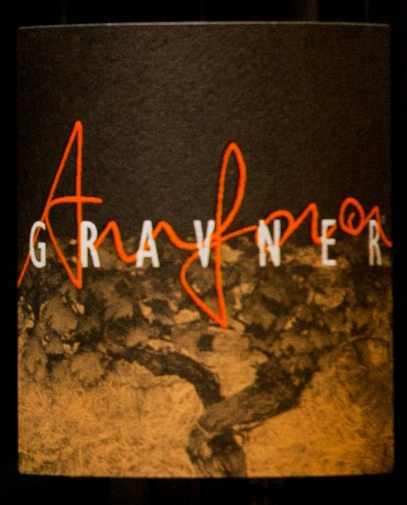 Gravner Ribolla 2005... Gets Better the Next Day
Amber in color with a bright orange hue; an intriguing nose with apricots, peaches, orange-blossom honey, flowers, and roasted nuts. Dry and medium body, good acidity. Notes of intense tangerine, apricots, hazelnuts on the palate. Good structure, signs of tannins. Long, fresh minerally finish with an unique salty tang!
An explorer at heart, I resisted the temptation and left half a bottle to try over the next couple days.. and am deeply impressed that the wine is as impressive the next day.. and the day after!
A White Wine that Can Last 20+ Years
Another impressive experience is the power and graceful development of Ribolla. Gravner ages his wines 5-7 years in his cellar and only releases them when he deemed ready.
The current market release for an Italian white is vintage 2013; yet the most recent release for Gravner was Ribolla 2008! Gravner Ribolla definitely rivals the strongest white burgundies and white rioja, with over 20+ years of aging potential.
A Perfectionist...
In addition to Ribolla, Gravner crafts two other wines: The Rosso Gravner is a blend of cabernet sauvignon and merlot. The Berg is a blend of Chardonnay, Sauvignon Blanc, Riesling Italico, and Pinot Grigio. It is fermented and aged in woods. Sadly for the lovers of Berg, 2012 was the last declared vintage. Josko Gravner wanted to concentrate on Ribolla. Unlike Chardonnay and Sauvignon Blanc whose birthplace is France, Ribolla is one of Fruilli's indigenous and ancient grape. Gravner wants to craft wines that truely captures as well as expresses the history, the spirits and souls of the region.
In addition to cutting down a wine, Gravner is abandoning some vineyards to concentrate on the best plots. Out of the 18 hectares, he currently produces 221 L wines.
Gravner did not craft a wine with customers in mind; He does everything he can to ensure minimal interference so that his wines are the best natural expression of history, nature, and terroir. The results -- every vintage differs.. as does nature. That is what makes each wine so intriguing!
"My goal was merely to simplify things. People have been making wine this way for five thousand years. The amphora, handmade from clay of the Caucasus, is the perfect container for fermenting wine, like a mother's womb. Placing them in the earth naturally provides whatever temperature control is necessary." - Josko Gravner.
Only 20,000 bottles produced each year. This is definitely a bucket-list wine to try for all wine lovers!
Stay informed. Follow us and subscribe here to get our latest wine insider news and tips:
Practical Wine Lessons: Wine Tasting Like a Pro | Grapes | Serving Wine | Food Pairing | Preservation | Temperature | Restaurant Ordering | Wine Labels | Wine Regions | Wine Storage | Start a Collection | Common Wine Myths.
Useful Wine Tips: Ten Facts to Become an Instant Wine Pro | Vintage Guide | Removing a Broken Cork | Serving Order of Wines | Fastest Way to Chill a Wine | Host Wine Party | Elements of a Good Wine | Wine Investment "Winning" Guide | Leftover Wine: Recipe for Vino Punch | Freeze Your Leftover Wine | Wine Moods Pairing | Best Way to Preserve Champagne After Open | Ten Must-Have Wine Accessories.
Tasting Tutorial: Cabernet vs. Merlot vs. Pinot Noir | Sauvignon Blanc vs. Chardonnay vs. Riesling | Burgundy vs US vs New Zealand Pinot Noir.
Fun Download: Wine Tasting Scorecard | Wine Serving Temperature Chart | Wine Aroma Table | 3 Must-Know Red Grapes | 3 Must-Know White Grapes | Vintage Chart | Wine Party Themes | Wine Region Maps | Grand Cru Chart | Wine and Moods Pairing Chart | Wine Quotes & Wine Humor.
Travel & Exploration: Champagne 101 | Bandol | Italy | Spain | Sherry.
Jewels & Gems: Grower Champagne Pierre Gimonnet | Gravner Ribolla - An Amber Wine Maturated in Clay | Gaja - King of Barbaresco.