France
France is a critical contributor in the history of viticulture. It is the birthplace of many important grapes: Cabernet Sauvignon, Merlot, Pinot Noir, Syrah, Chardonnay, Sauvignon Blanc, Riesling, and Chenin Blanc. In addition, its government controlled classification and appellation systems had set an example for the wine systems in other European countries.
Key Regions

Key Varietals

1. Bordeaux
Cabernet Sauvignon, Merlot, Cabernet Franc, Malbec, Petit Verdot.
2. Burgundy
Chardonnay (white). Pinot Noir (Red).
3. Rhone Valley
Syrah, Grenache, Mourvedre.
4. Loire Valley
Chenin Blanc (white). Cabernet Franc (Red).
5. Champagne
Chardonnay, Pinot Noir, Pinot Meunier.
6. Alsace
Riesling, Gewurztraminer, Pinot Gris, Muscat.
7. Languedoc Rousillon
Carignan, Mourvedre, Cinsault, Grenache, Cabernet Sauvignon, Merlot.
France's Appellation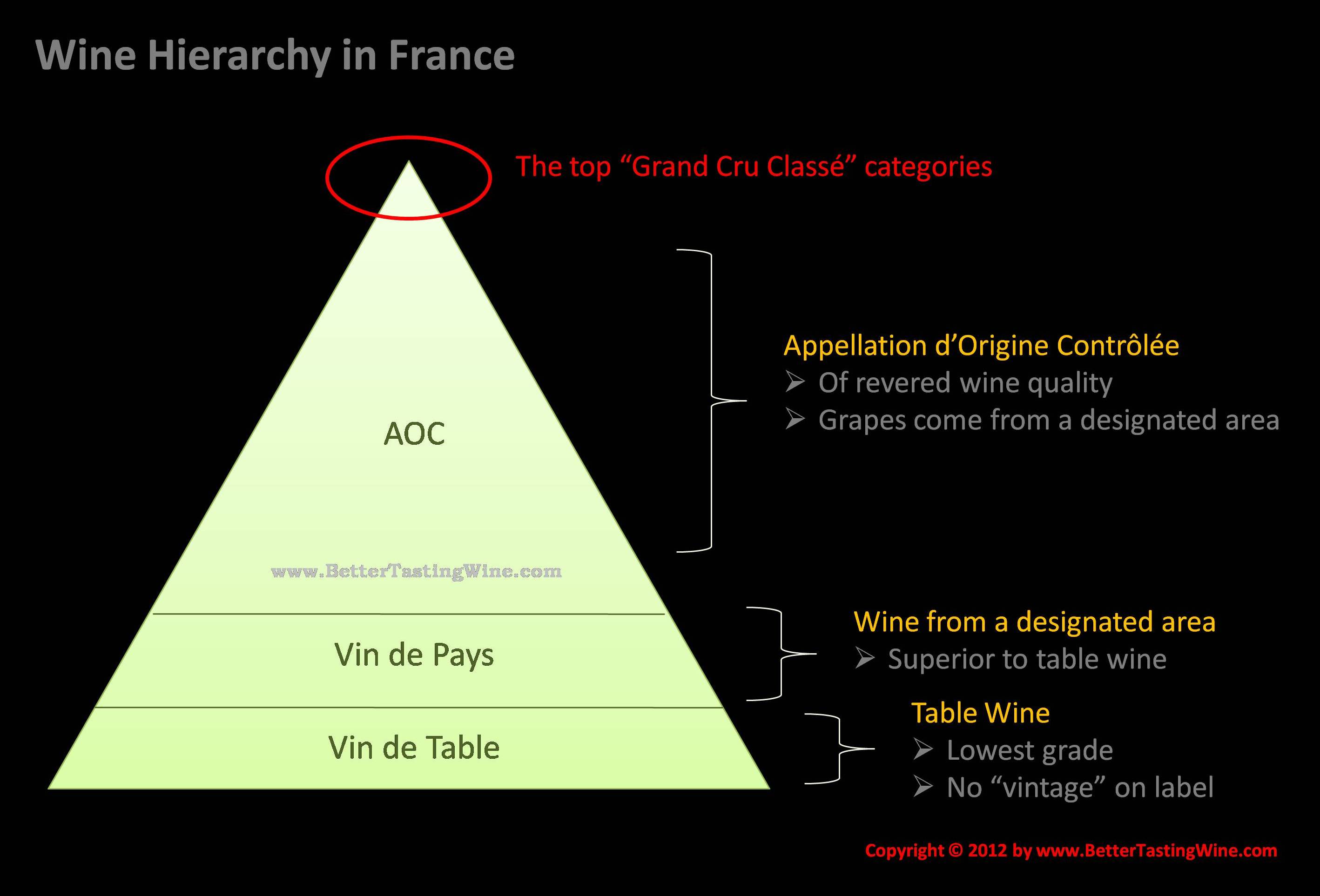 Administered by the Institut National des Appellations d'Origine (INAO), France's classification system was established in 1935 to fight trade frauds and to differentiate wine quality.
All French wines are categorized into 4 levels of quality:
Vin de table: Literally means "table wine". This is the lowest quality category. The wine, often blended, can be made from grapes grown in anywhere in France. Table wine does not have a year on its label.
Vin de pays: Village wine -- takes the characters of a specific region. Some wine producers love this loosely regulated category as it offers room for creativity.
Vin Délimité de Qualité Supérieure (VDQS): Not that many wines fall into this category. It is a graded-down version of AOC.
Appelation d'Origine Contrôlée (AC or AOC):

Wine subjects to rigid regional regulations on grape variety, yields per hectare, alcohol level, and production methods. Most of the imported French wines fall into this category.
1855 Classification of the Left Bank
In 1855, the most prestigious chateau on the left bank (indicated by its market price at that time) were recognized and classified into 5 top grand cru classe. Wineries from the right bank such as St Emilion and Pomerol were excluded from the ranking. Chateau Haut Brion who played an influencing role in the classification was the only chateau included from the Pessac Leognon area; all the other chateaux are from the Medoc region.
To this date, the 1855 classification of the left bank has not been updated. Many argued that the ranking is quite outdated as some chateaux (Palmer, Pontet Canet for example) deserve a promotion and few others may deserve a demotion.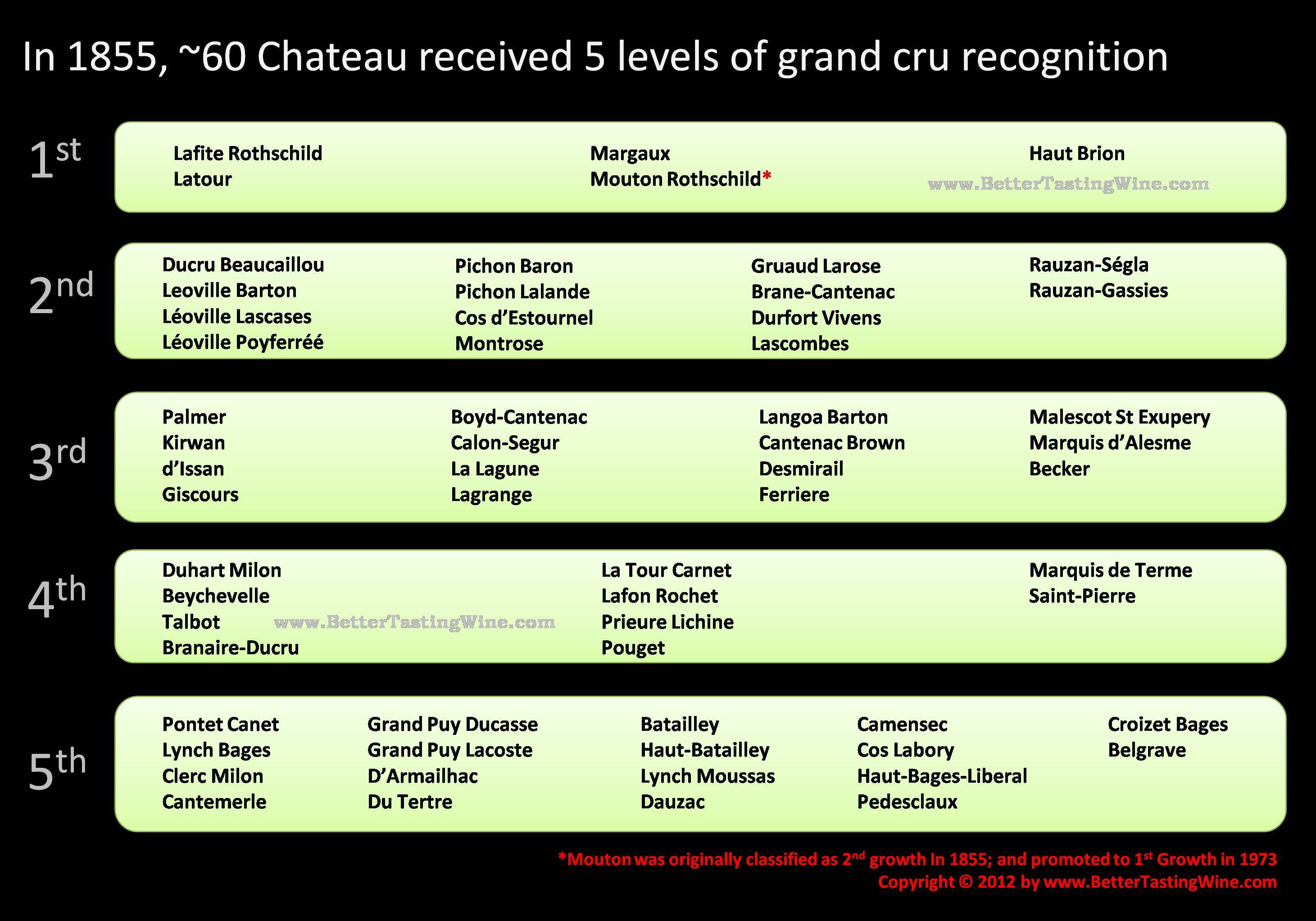 Stay informed. Follow us and subscribe here to get our latest wine insider news and tips:
Practical Wine Lessons: Wine Tasting Like a Pro | Grapes | Serving Wine | Food Pairing | Preservation | Temperature | Restaurant Ordering | Wine Labels | Wine Regions | Wine Storage | Start a Collection | Common Wine Myths.
Useful Wine Tips: Ten Facts to Become an Instant Wine Pro | Vintage Guide | Removing a Broken Cork | Serving Order of Wines | Fastest Way to Chill a Wine | Host Wine Party | Elements of a Good Wine | Wine Investment "Winning" Guide | Leftover Wine: Recipe for Vino Punch | Freeze Your Leftover Wine | Wine Moods Pairing | Best Way to Preserve Champagne After Open | Ten Must-Have Wine Accessories.
Tasting Tutorial: Cabernet vs. Merlot vs. Pinot Noir | Sauvignon Blanc vs. Chardonnay vs. Riesling | Burgundy vs US vs New Zealand Pinot Noir.
Fun Download: Wine Tasting Scorecard | Wine Serving Temperature Chart | Wine Aroma Table | 3 Must-Know Red Grapes | 3 Must-Know White Grapes | Vintage Chart | Wine Party Themes | Wine Region Maps | Grand Cru Chart | Wine and Moods Pairing Chart | Wine Quotes & Wine Humor.
Travel & Exploration: Champagne 101 | Bandol | Italy | Spain | Sherry.
Jewels & Gems: Grower Champagne Pierre Gimonnet | Gravner Ribolla - An Amber Wine Maturated in Clay | Gaja - King of Barbaresco.