Champagne: A Practical Guide
"Come quickly, I am drinking the stars!" -- Dom Perignon.
10 Practical Facts that can enhance your Champagne appreciation!
1. Serving Temperature: Serve Champagne cold for better enjoyment and for safety. There is 6 atmosphere pressure inside a Champagne bottle (the same amount in the tires of a double-deck bus). When opened warm, the cork can fly out. Worse, with the carbon dioxide escaping in a "pop", the bottle of Champagne will go flat very rapidly.
Optimal serving temperature for non-vintage Champagne is 43ºF (6ºC), and 47ºF (8ºC) for premium vintage champagne. When served too warm, Champagne will go flat very quickly.
2. How to Open a Bottle of Champagne? To open a bottle of sparkling, kept one hand on the cork to keep it from flying. Rotate the bottle.
3. Glassware:
Flute is the perfect glassware for everyday, non-vintage Champagne.
To better enjoy the aroma of a top-notch Champagne, you can try using a small white wine glass for complex Champagne.
4. To Keep Opened Champagne Fresh Longer, immerse your open bottle in an ice bucket. Carbon dioxide (the bubbles) stay in the wine better when cold.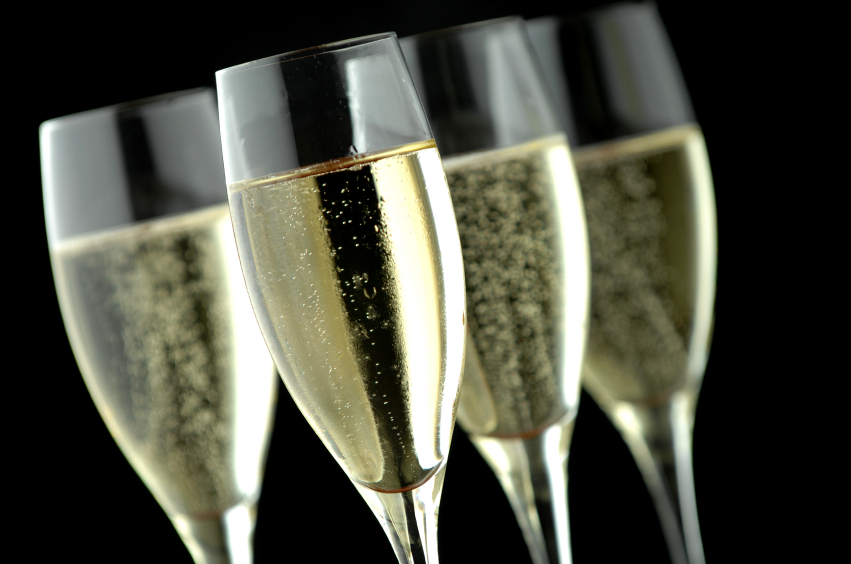 5. Drinking Window: Champagnes can be classified as vintage (with a year on a bottle) and non-vintage (with "NV" marked on bottle).
Non-vintage champagnes are crafted by blending base wines from different years together to achieve a consistent quality, the house style. Non-vintage champagnes are best enjoyed within 3-5 years. Common non-vintage Champagnes include Moet & Chandon, Veuve Clicquot, Drappier, and Piper-Heidsieck.
Vintage champagne must be made from grapes harvested in the declared year, thus tends to reflect the characteristics of the harvest year. Top of line vintage champagnes are best enjoyed 8-15 years after release.
6. Know its Sweetness from the Label: You may come across a Champagne that is sweet and another that is bone dry. There are terms that indicate sweetness level in a Champagne (see table below). The norm is brut, with 0-15 g sugar per liter, depending on producers.
| | |
| --- | --- |
| Label Terms | Mouthfeel and Sugar Content |
| Brut Nature / Brut Zero | Bone dry with 0-2 g sugar / liter |
| Extra Brut | Very dry with 0-6 g sugar / liter |
| Brut | Very dry to dry with 0-15 g sugar / liter |
| Sec / Dry | Medium-dry with 17-35 g sugar / liter |
| Demi-Sec | Sweet with 33-50 g sugar / liter |
| Doux | Luscious with 50+ g sugar / liter |
7. Know its Style from the Label: Though most champagnes are made from a blend of 3 grapes. There are those that are purely made from white grapes, or purely from red grapes. Blanc de Blanc is made solely from white Chardonnay grapes. It is more defined, elegant, and acidic than a regular champagne made from the three grapes. Blanc de Noir, on the other hand, is made solely with red Pinot Noir and Pinot Meunier grapes.
Rosé champagnes are salmon to pinkish in color. There are two ways to make rose champagnes. By adding Pinot Noir red wine to the clear sparkling base; or by macerating the base wine with the skin of black grapes for a short period to get the color. The first blending method is more commonly used.
8. Recognize Top of Line: There are over 100 companies making Champagne. It is useful to know the Prestige Cuvée or Tête de Cuvée (top of line) for each marque. For example, Dom Perignon is the Prestige Cuvee of Moët et Chandon and Cristal is the top of line for Roederer. Prestige Cuvée is made from the best grapes, usually only using a blend of Chardonnay and Pinot Noir.
9. Finding Value: Most Champagnes on the market are made from purchased grapes. It is increasingly trendy to seek grower Champagnes, Champagnes made by the same estate that owns the vineyards and grew the grapes. The estates would keep good quality grapes and supervise the production from vineyard to bottling. These are the best value for money.
The growers are known as récoltants-manipulants (harvester-makers). Look for the tiny "RM" on a Champagne label. Excellent grower Champagne brands include: Jacque Selosse, Egly-Ouriet, Pierre Gimonnet, and Chartogne-Taillet.
10. A Cheaper Alternative: If you like Champagne but prefer a lower price alternative, venture into French Cremant, Italian Franciacorta, Spanish Cava, or New World sparklings. Look for the terms "methode champenoise" or traditional method or metado classico on the bottle. It means they are made in a similiar method with second fermentation happening in the bottle.
| | |
| --- | --- |
| Champagne Alternatives | Reliable Producers |
| Italian Franciacorta | Bellavista, Ca del Bosco, Ferrari |
| Spanish Cava | Freixenet, Segura Viuda, Codorniu |
| American Sparkling | Domaine Carneros, Domaine Ste Michelle |
The Italian Franciacorta uses the same grapes as Champagnes. Spanish Cava uses local Spanish grapes so the taste will differ.
Final words...
Champagne market is highly driven by advertisement and marketing. Moet & Chandon and Veuve Clicquot account for 50%+ of the US market. Little do we know, when we buy a bottle of Moet, a lot of what we pay for goes into marketing and advertisement.
Next time, explore into a grower Champagne. It may cost more or less, but at least you are not paying for marketing dollars.
Stay informed. Follow us and subscribe here to get our latest wine insider news and tips:
Practical Wine Lessons: Wine Tasting Like a Pro | Grapes | Serving Wine | Food Pairing | Preservation | Temperature | Restaurant Ordering | Wine Labels | Wine Regions | Wine Storage | Start a Collection | Common Wine Myths.
Useful Wine Tips: Ten Facts to Become an Instant Wine Pro | Vintage Guide | Removing a Broken Cork | Serving Order of Wines | Fastest Way to Chill a Wine | Host Wine Party | Elements of a Good Wine | Wine Investment "Winning" Guide | Leftover Wine: Recipe for Vino Punch | Freeze Your Leftover Wine | Wine Moods Pairing | Best Way to Preserve Champagne After Open | Ten Must-Have Wine Accessories.
Tasting Tutorial: Cabernet vs. Merlot vs. Pinot Noir | Sauvignon Blanc vs. Chardonnay vs. Riesling | Burgundy vs US vs New Zealand Pinot Noir.
Fun Download: Wine Tasting Scorecard | Wine Serving Temperature Chart | Wine Aroma Table | 3 Must-Know Red Grapes | 3 Must-Know White Grapes | Vintage Chart | Wine Party Themes | Wine Region Maps | Grand Cru Chart | Wine and Moods Pairing Chart | Wine Quotes & Wine Humor.
Travel & Exploration: Champagne 101 | Bandol | Italy | Spain | Sherry.
Jewels & Gems: Grower Champagne Pierre Gimonnet | Gravner Ribolla - An Amber Wine Maturated in Clay | Gaja - King of Barbaresco.