Bandol: One of the oldest & most acclaimed wine regions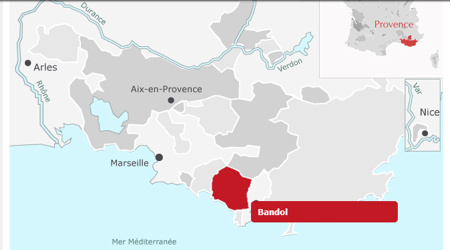 The Bandol wine region of France, located near the coast east of Marseille and Cassis, is one of Provence's most internationally recognized wine regions and one of the very first to have its name registered as an "appellation"  in 1941.
Based around the fishing village of Bandol, west of Toulon, the Bandol AOC covers the production of 8 communes with silicon & limestone soils. Those soils and the warm, coastal climate are ideally suited for the late ripening Mourvèdre grape which is the major varietal of the region. For both the red and rosé wines, Mourvèdre must account for at least 50% of the blend, though most producers will use significantly more, with Grenache & Cinsaut usually filling out the rest of the wine's composition.

The Bandol region is not only a wine place but is also home to one of the best beaches and old charming villages in France. It is definitely worth the visit for wine lovers, gourmet travellers and sunbathing aficionados.
What kind of wines are produced?

The 268 producers make approximately 31% red wines, 64% roses and 5% white wines.

Whites:
Clairette, Bourboulenc and Ugni Blanc are the base of the varietal mix. The white wines are golden colour with pronounced nose of floral notes: lily of the valley, linden and orange blossoms. On the palate, these wines tend to have full body with high acidity with exotic fruits and floral components that last for long in your mouth.
Rosés:
Bandol rosés are very special. Their roundness and generosity make them different from other rosé wines. Mourvèdre, Grenache and Cinsault combine to give, by direct-pressing, a well-built, refined, pale-coloured wine with delicate salmon hues. They are of medium to high intensity on the nose with distinctive noted of stony nose of roses, rosehips, and other floral and mineral aromas. In the mouth it is explosive in its crispness. The wines tend to be medium to full body and flavours of rosehips and redcurrant supported by a steely undercarriage of minerality. They are to be enjoyed in their youth when their great freshness is most captivating; however, the presence of Mourvèdre brings out their typicity and encourages laying them down, as is the rule for red wines. Long-lived rosés acquire exceptional temperament and flavours.
Reds:
The red wines of Bandol are primarily made from Mourvèdre, but is harmoniously combined with Grenache and Cinsault, the former bringing generosity to the wine, the latter giving it finesse. Usually garnet and of deep intensity, as diverse they may be, all have the specific character of Mourvèdre in common. They are powerful on the nose and on the palate with great length showing aromas of Havana, leather, and undergrowth that blossom against a mineral background, and shows even more complex notes with the subtlety of each vintage. In its youth, it reveals aromas of liquorice, black fruits and violet notes. As they age, they uncover flavours of red fruits, jam, cherries, spices, leather, and sometimes truffle. Although it is the perfect type of wine for cellaring, they can be enjoyed at their youth if one is not put off by the high level of tannins. To those who can bide their time, a 10, 20, or 25-year-old Bandol will be delightfully enjoyable.
Some of the most famous domains & chateaux: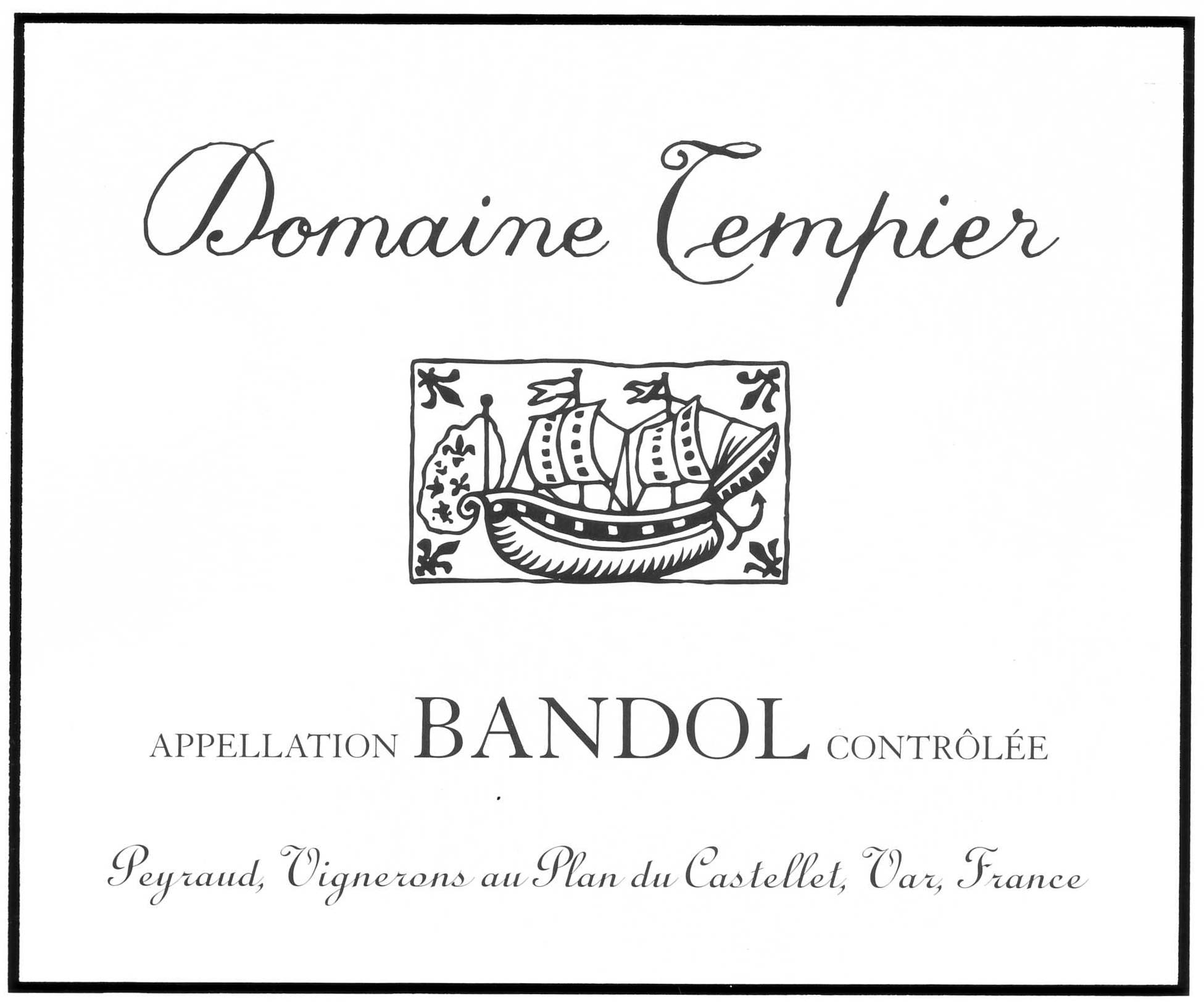 Domaine Tempier
Domaine Tempier is located at Le Plan du Castellet. Its vineyards stretch over three different communities- Le Castellet, Le Beausset and La Cadière. The plots of land are thus far apart and require extra work. But the soil of these different areas yield distinctive cuvées -Spéciale, Migoua, Tourtine and Cabassaou - as well as interesting and complex blends for white, rosé and red wines. Domaine Tempier owns 30 hectares. It produces AOC Bandol exclusively - an average of 68% red, 29% rosé and 3% white wines, approximately 120,000 bottles per year.
Domaine Tempier: 1082, chemin des Fanges, Le Plan du Castellet,83330, France.
info@domainetempier.com | www.domainetempier.com
Domaine de la Vivonne
Domaine de la Vivonne is located on the slopes of the medieval village of Castellet, around the old buildings, the vines are planted on terraces and most of them are over 35 years old. The domaine was created in 1904 and the owner have long time adopted an organic approach to viticulture. No fertilizers or any insecticides is used. Hand harvest and maturation for at least 18 months as per the appellation requirement. The reds are beautiful, complex and intense. Roses are delicate and pair very well with the Mediterranean food.
Domaine de la Vivonne: 3345 Montée du Château, Le Castellet, 83330, France.
info@vivonne.com | www.vivonne.com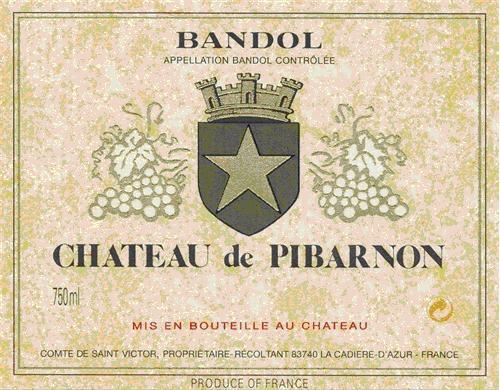 Chateau de Pibarnon
The vineyards of Chateau de Pibarnon create a natural amphitheatre, sitting atop La Colline du Télégraphe at a height of 300m, staring directly out at the beautiful Mediterranean bay of La Ciotat. Definitely worth the visit just for the scenery and for the sake of having a sense of the "prestige" that this Chateau has. This estate was one of the best wines in the world in the early 2000's but lately other qualitative domains have caught up and Pibarnon rivals now with other wineries offering best value for money. Their wines are magnificent in complexity, long in length and the 10% Grenache that is usually put in the  red blend brings more roundness to the young tannins. The whites are scare and very sought after by the locals. One of only 163 producers of 'very great wines' in France and one of only four producers at this level in Provence rated by the famous French wine critic Bettane & Desseauve.
Chateau de Pibarnon: 410 Chemin de la Croix des Signaux, 83740 La Cadière-d'Azur, France.
www.pibarnon.com
Expert Wine Picks: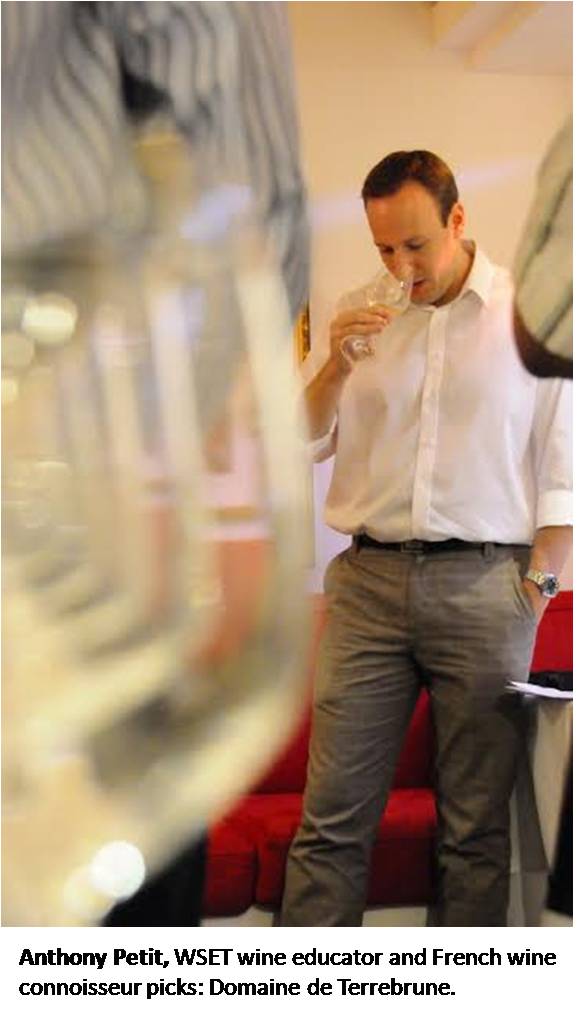 Domaine de Terrebrune
Nestled on the back slopes overlooking the Bandol bay, the Domaine de Terrebrune, with its 30 hectares of vineyards and the woods around, seems untouched yet by the urban sprawl that disfigured much the coastal strip in the area. To reach its premises in the back of Ollioules, you have to drive on a beautiful narrow road winding through woods, terraced vineyards and olive trees. The scenery is magnificent . Wines are made from carefully selected and hand-picked grapes by winemaker Reynald Delille. They are all organic and production is small (usually around 10,000 bottles per year).
The Rosé is 50 % Mourvèdre and 50% shared between Grenache and Cinsault.. This is what the French would call a "Rose Gastronomique", that is to say a fine rose that provides exceptional complexity. The wine has good weight and is a very fine match for most summery Provencal dishes. Pascal Perier of the Maison des Vins de Bandol, who once opened a couple of old Bandol rosés for a check, said  that the Terrebrune rosés are among the ones with the longest aging potential. 1994 is magnificient.
Reds are particularly complex and intense on the nose and the palate. The tannins allow them to age for over 25 years without a problem. In their youth, they display notes of black fruits, prunes, leather and cedar. At advanced maturity they show aromas of leather, tar, venison and rosemary.  They pair very well with roast meats, venison or surprisingly with Chocolate desserts as they are full bodied, intense and long on the finish.
Domaine de Terrebrune: E.A.R.L. 724, chemin de la Tourelle 83190 OLLIOULES.
Tél. : 33 (0)4 94 74 01 30 | Fax : 33 (0)4 94 88 47 51
Credit & Author: Anthony Petit is a WSET wine educator and a French wine connoisseur.
Stay informed. Follow us and subscribe here to get our latest wine insider news and tips:
Practical Wine Lessons: Wine Tasting Like a Pro | Grapes | Serving Wine | Food Pairing | Preservation | Temperature | Restaurant Ordering | Wine Labels | Wine Regions | Wine Storage | Start a Collection | Common Wine Myths.
Useful Wine Tips: Ten Facts to Become an Instant Wine Pro | Vintage Guide | Removing a Broken Cork | Serving Order of Wines | Fastest Way to Chill a Wine | Host Wine Party | Elements of a Good Wine | Wine Investment "Winning" Guide | Leftover Wine: Recipe for Vino Punch | Freeze Your Leftover Wine | Wine Moods Pairing | Best Way to Preserve Champagne After Open | Ten Must-Have Wine Accessories.
Tasting Tutorial: Cabernet vs. Merlot vs. Pinot Noir | Sauvignon Blanc vs. Chardonnay vs. Riesling | Burgundy vs US vs New Zealand Pinot Noir.
Fun Download: Wine Tasting Scorecard | Wine Serving Temperature Chart | Wine Aroma Table | 3 Must-Know Red Grapes | 3 Must-Know White Grapes | Vintage Chart | Wine Party Themes | Wine Region Maps | Grand Cru Chart | Wine and Moods Pairing Chart | Wine Quotes & Wine Humor.
Travel & Exploration: Champagne 101 | Bandol | Italy | Spain | Sherry.
Jewels & Gems: Grower Champagne Pierre Gimonnet | Gravner Ribolla - An Amber Wine Maturated in Clay | Gaja - King of Barbaresco.