Top Italy Wine Producers
#1 Angelo Gaja -- the King of Barbaresco
Angelo Gaja was known for single-handedly repositioned Barbaresco wines to amongst the best in the world. Gaja's pivotal impact started when he introduced the first barberesco cru in 1967 - Sori San Lorenzo.
Gaja's success is due to his vision, commitment to excellence, dedication, as well as business acumen. Rather than taking the easy path by selling to local restaurants, Gaja travelled and sold his wines to the best restaurants in Italy and later throughout Europe and in the US. Without a marketing budget, he relied on sommeliers' word of mouth endorsement. Another brilliant move was Gaja doubling the price of his 1971 Barbaresco. By increasing his price and selling at a similar level to the great Bordeaux, Gaja effectively communicated to the market the value of his wines.
Gaja is well-known for his Barbarescos and Barolos single vineyards (he purchased his first Barolo vineyard Sperss in 1988). In 1994, Gaja acquired a property in Tuscany entering the Brunello market. Two years later, Gaja acquired an estate in Bolgheri from where he produces IGT wines blended with Cabernet Sauvignon, Cabernet Franc, Merlot, and Syrah.
In 1996, Gaja surprised the world by downgrading five of his DOCG crus (100% Nebbiolo) to the lower Langhe DOC grade. His reason is pursuit for excellence vs. keeping a externally perceived better wine-label category. He wants the flexibility to blend up to 5% of Barbera into his crus for optimal balance. The DOCG regulation would not allow that. Currently, only his Gaja Barbaresco and Gaja Dagromis Barolo remain DOCG grade.
Gaja emphasized quality over quantity and profit. When rain (2002) and summer heat (2003) ruined his Brunello crops, he would sell them off in bulk. He did not produce any Brunello in both 2002 and 2003 vintages, a decision few winemakers would mirror.
Style: Though having introduced new oak barriques to Piedmont, Gaja still adopts many of the traditonist practice -- a long fermentation, limiting over-use of new oak barriques, and finishing maturation in large Slovonian botti.
Of the Barbaresco Crus, Costa Rossi is the velvety; Sori Tilden has layers of structure; and Sori San Lorenzo the most power and long-living. Of the Barolo Crus, Conteisa from the cru Cerequio in La Morra is perfumy and elegant; Sperss (Serralunga) offers more structure and density.
Production Volume: There is only 1,000 cases of the Gaja Crus each year (very rare, compared to 15,000-20,000 cases of first growth for Chateau Lafite). Fewer than 6,000 cases of Brunellos and Montalcinos are produced each year. Total Gaja annual production is ~30,000 cases. With such artisan volume, prestigious brand premium and increasing global demand, Gaja's Crus remain popular collectible wines.
Pricing Points: In recent years, despite the fall of the Bordeaux, Gaja's prices have appreciated. Using the 2010 vintage as a reference point, Gaja's Sori San Lorenzo retails at USD 400+; Sperss at ~USD 200; Dagromis at ~USD 80+. Gaja's white wines also commands premium pricing, with Alteni di Brassica over USD 90 and Rossj-Bass over USD 60.
Everyday Gaja: Gaja Promis is a popular Sommelier's choice for wine by the glass. It is fruity, made in the sunny Ca'Marcanda estate in Bolgheri. A blend of Merlot, Syrah and Sangiovese, Promis is aged 18 months in oak. Retail price ~USD 30.
New Faces: Angelo is now in his 70's, though still full of passion, energy and far from retirement. His two daughters Gaia and Rossana are over-seeing winery operations. Angelo Gaja once announced that he has no intention to expand outside of Italy. With the new generation taking over the rein, that may change. The picture belows show Gaja with wife Lucia, daughters Gaia and Rossana, and son Giovanni. [Picture source: QRW and Andrea Wyner].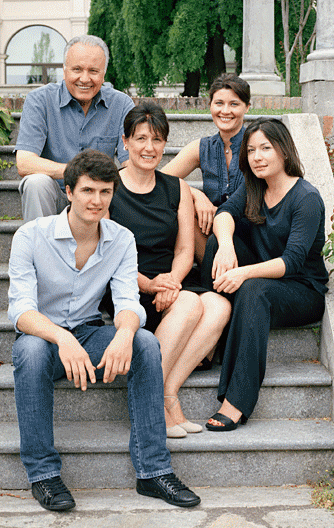 Gaja's Piedmont wines:
Barbaresco Crus (single-vineyard): Sori San Lorenzo, Sori Tilden, Costa Russi.
Barolo Crus (single-vineyard): Sperss, Conteisa.

Barbaresco DOCG: Barbaresco, made from 14 vineyard plots.
Barolo DOCG: Dagromis (blend from Serralunga and La Morra plots).

Langhe Reds DOC blended with noble grapes: Darmagi, Sito Moresco.
Langhe Whites made with noble grapes: Alteni di Brassica (Sauvignon Blanc), Gaia & Rey (Chardonnay), Rossj-Bass (Chardonnay & Sauvignon Blanc blend).
Gaja's Tuscany wines:
Brunello DOCG: Rennina, Sugarille.
Tuscany IGT: Promis, Magari.
Bolgheri DOC: CaMarcanda (Merlot, Cabernet Sauvignon, Cabernet Franc blend).
Stay informed. Follow us and subscribe here to get our latest wine insider news and tips:
Practical Wine Lessons: Wine Tasting Like a Pro | Grapes | Serving Wine | Food Pairing | Preservation | Temperature | Restaurant Ordering | Wine Labels | Wine Regions | Wine Storage | Start a Collection | Common Wine Myths.
Useful Wine Tips: Ten Facts to Become an Instant Wine Pro | Vintage Guide | Removing a Broken Cork | Serving Order of Wines | Fastest Way to Chill a Wine | Host Wine Party | Elements of a Good Wine | Leftover Wine: Recipe for Vino Punch | Freeze Your Leftover Wine | Wine Moods Pairing | Best Way to Preserve Champagne After Open | Ten Must-Have Wine Accessories.
Tasting Tutorial: Cabernet vs. Merlot vs. Pinot Noir | Sauvignon Blanc vs. Chardonnay vs. Riesling | Burgundy vs US vs New Zealand Pinot Noir.
Fun Download: Wine Tasting Scorecard | Wine Serving Temperature Chart | Wine Aroma Table | 3 Must-Know Red Grapes | 3 Must-Know White Grapes | Vintage Chart | Wine Party Themes | Wine Region Maps | Grand Cru Chart | Wine and Moods Pairing Chart | Wine Quotes & Wine Humor.
Wine Travel: Champagne 101 | Bandol Wine Region.
Jewels & Gems: Grower Champagne Pierre Gimonnet | Gravner Ribolla - An Amber Wine Maturated in Clay.