The Web's Most Practical Wine Resources
A fun knowledge brings you smiles;
Useful wine tips take you miles.
Charity, on top of wine class;
A better world, glass by glass.
- our philosophy and goals.
Interactive Wine Guide: Click at any Topics in the Picture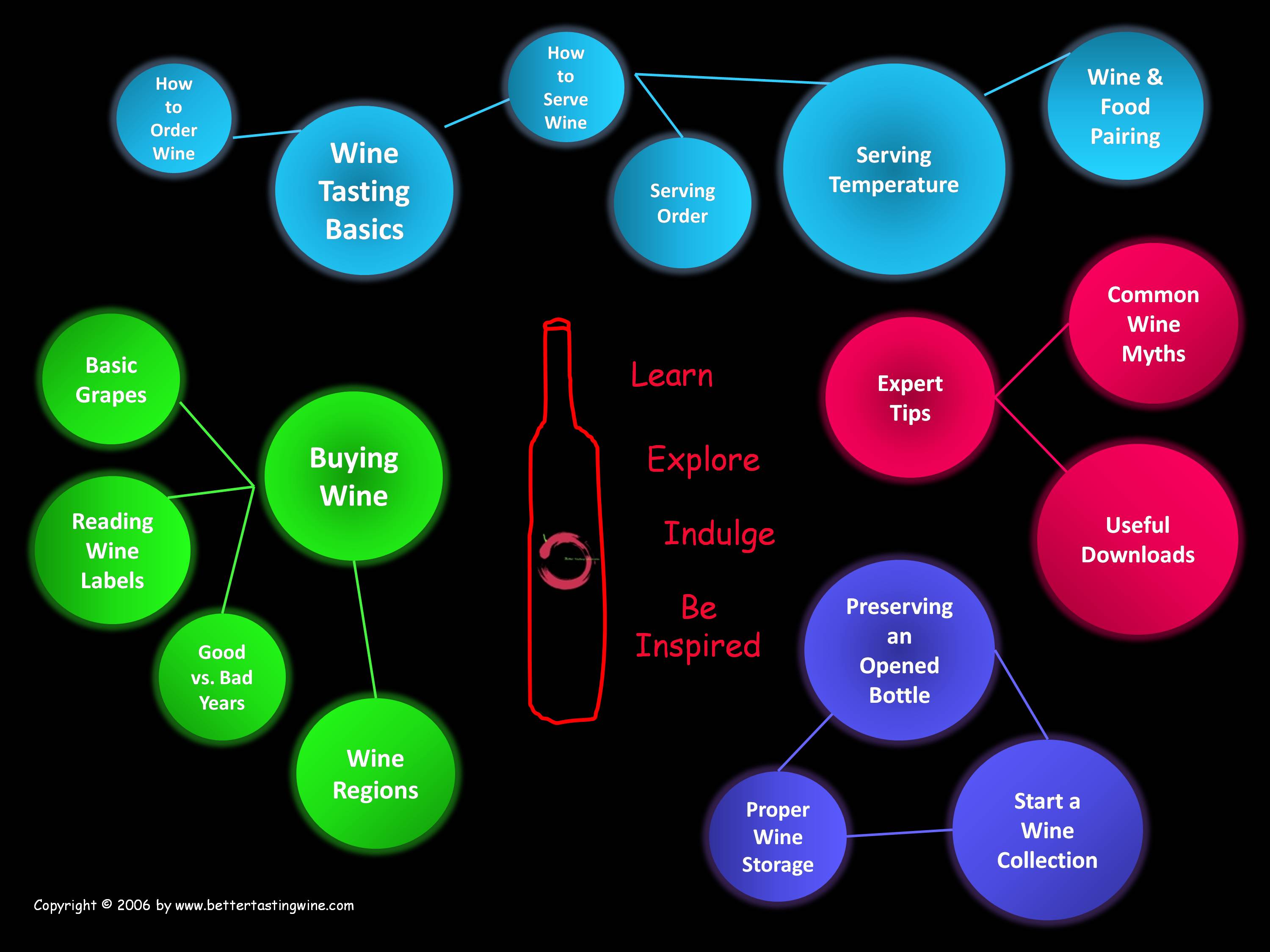 Useful Wine Knowledge & Expert Tips

3 Simple Ways to Make Your Wine Tastes Better

Smell the roses and the flowers... 3 simple steps to make your wine smells and tastes instantly better. Let the secrets be known... click for more.

Cabernet Sauvignon, Merlot vs. Pinot Noir

A red wine tasting tutorial on the three most popular and common red grapes. How do they differ in aroma, body, and character? What food pair well with each?

Know what to order in restaurant and and be better at blind tasting game. click for more.

Sauvignon Blanc, Riesling vs. Chardonnay

A white wine tasting tutorial on the three most popular and common white grapes. Discover the similarities and differences in aroma, body, and character?

Know what to order in restaurant and be better at blind tasting game. click for more.

Find Value in Good Vintages & Gems in Bad Years

Lots of sales is going on.. But what are real values vs. bad buys?

Vintage matters. A great vintage can be pricey; A bad one wastes of money. What are the safe vintages? Which are the ones to avoid? click for more.

Wine and Cheese? Friend or Foe?

Some say wine and cheese are perfect partners; Others say they are the worst enemies. What is the truth?

Learn the one universal principle behind wine and food pairing. Become a savvy host, never mess up wine and food pairing again click for more.

Fun themes for wine tasting party. Spice up your gathering, make it "blind" by masking the bottles. Have fun while learning more about wine with your friends. Preparation, tasting templates, planning tips... click for more.

Best Way to Save an Open Bottle of Wine

We hate to let a good bottle dies... so know how to extend its life!

There are traditional methods as well as trendy wine preservation systems such as Coravin, WiKeeps. Compare, review, and find what suits your needs.. click for more.

Wine Tasting Tutorial: Pinot Noir Around the World

"Sexy" is a very commonly used word when describing Pinot Noir. Oz Clarke, a famed wine writer, described it as "sensous, often erotic, above rational discourse, and beyond measured critism".

What makes it so luring? Wine tasting tutorial on Pinot Noir from Burgundy, US, New Zealand... click for more.

Removing a Broken Cork: You can do it!

Where you insert the corkscrew and which direction you pull matters! Expert tips on how to do it successfully click for more.

Wine Investment Guide: Do's and Don'ts

What are some good wine investment choices? What are the do's and don'ts?

Understand the pros and cons of wine investment. Is en primeur worth buying? How to manage your wine investment risks click for more.

10 Facts that will Change Your Champagne Appreciation

Few do it properly -- To open a bottle of Champagne, rotate the bottle, not the cork.

Use a white wine glass, not Champagne flute, when tasting complex vintage Champagne.

10 Facts that will change your Champagne appreciation click for more.
Wine News | Inspiring Travel | Exciting Producers

Top 10 Wine Accessories for Wine Lovers

Ten must-have wine tools at home for wine lovers. Trendy AND practical, making the perfect thoughtful wine gifts. How many of these do you know...click to see.

Oct 31, 2014, Hong Kong

Over 100 wines from all over the world featured in this tasting organized by James Suckling and Tatler HK. Discover which wines truely stand out amidst the battle of the Titans. Wines poured include Mouton, Giacosa, Banfi, Almaviva, Sena... click for more.

March 17-21, 2014, France

An extensive taste of the 2012 Burgundy at the Grands Jours de Bourgogne. Is 2012 the "vintage de merde" or is it an elegant and expressive vintage? click for more.

The Purest Expression of Terroir -- Didier Gimonnet

March 14, 2014, France

Without dispute, Gimonnet is amongst the top grower Champagne. Its wines an expression of elegance and terroir.

A morning conversation with Olivier Gimonnet on common misperceptions and vintage differences.. click for more.

A White Wine that is "Orange" in Color

Feb 6, 2014, USA

Only 20,000 bottles produced each year, Gravner Ribolla is an usual wine -- amber in color with a bright orange hue, intensely complex aromas, muscular structure, and with 20+ years of aging potential.

Crafted in the same way as how wines were produced 5,000 years ago.. click for more.
Have a specific topic or question, search our website: